Getting into the Festive spirit with our Rare Fayre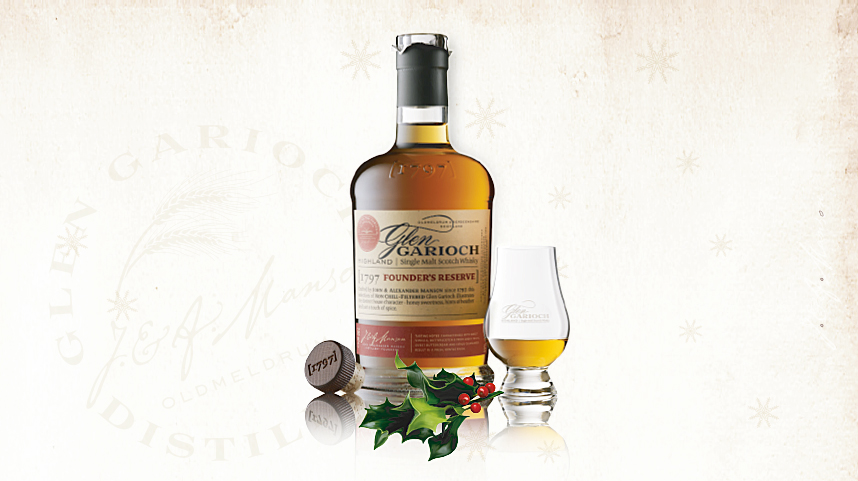 FESTIVE RARE FAYRE
Christmas is about sharing what you love with whom you love and a warm Doric welcome is guaranteed this festive season at A Rare Fayre, Glen Garioch Distillery Oldmeldrum which is being held on Saturday 7th December from 10am to 4pm. Discover the legacy, mastery and dedication of the people of Glen Garioch at this very special time of year. With a range of food and craft stalls from talented local producers, you'll discover some 'rare finds' and gift ideas this Festive Season at our home in Oldmeldrum. Enjoy a warming hot toddy and chat with our distillery team as you sample the honeyed sweetness and delicious creamy texture of the Glen Garioch range.
GLEN GARIOCH MISSOURI OAK
The Festive Rare Fayre also marks the launch of a brand new expression, the Glen Garioch Missouri Single Cask 1363. This second release of Glen Garioch's all American Trilogy series has spent over seven years patiently maturing in a single Missouri Virgin oak barrel. Sweet and spicy on the nose with heather honey, vanilla and just a touch of spiced nutmeg to taste, all leads on to a long lingering spiced marzipan finish.
Handcrafted and nurtured by the people of Glen Garioch, this unique dram comes from a single cask, selected at the very peak of perfection. Each bottle is individually numbered and personally signed by Master Blender, Ron Welsh. Perfect for the festive season and a rarity to be treasured.
TOURS AND MASTERCLASSES
It's true what they say – you can never fully enjoy a dram of Glen Garioch until you have seen how and where it's made. In fact, there are those who would say we're as traditional as they come. Many of our processes, for example, are the same today as they were over 220 years ago but the journey never stops being fascinating. Come and see time-honoured skills at work, touch and smell the natural ingredients used in our production, hear from our master craftsmen involved and, finally, taste the fruits of their labours.
Embrace the yuletide celebrations with a busy day of exclusive whisky tasting experiences, tours and masterclasses.
CREATE YOUR OWN SMALL BATCH WHISKY - £25.00
Our Master Blender, Ron Welsh hand picks cask at the very peak of perfection to reward our loyal followers. Join our Distillery Ambassadors and put your blending skills to the test in this masterclass where you'll have the unique opportunity to make your very own small batch 'Rare Find'!
10am | 60 mins
Over 18 only

RARE FINDS OF DISTILLERY ROAD WITH MASTER BLENDER, RON WELSH - £45.00
A rare opportunity to meet our Master Blender, Ron Welsh. Usually based in our group's blending room, Ron is making a special visit to Oldmeldrum to share some of his secret Glen Garioch drams with us. A rare find indeed.
11am and 2pm | 60 mins
Over 18 only
DISTILLER'S PIECE TIME - £55.00
Join our master craftsmen in this experience all about small batch production, hearty fine fare crafted by hand then savoured at piece time by our masters of Distillery Road. Food is our fuel for a busy day of crafting and grafting here at Glen Garioch. What better to keep us fed and watered than the natural produce from Aberdeenshire's larder specially flavour matched with some of our small batch whiskies. 10 places available, over 18 only. Please advise of any dietary requirements when booking.
12pm and 2.30pm | 90 mins
Over 18 only
Please visit https://tourbooking.glengarioch.com/list.php to book your place or dial +44 (0)1651 873 450 for further information.
IN THE HEART OF THE COMMUNITY
It's true what they say – quite simply, there is no place like home. Oldmeldrum is the Home of Glen Garioch and has been for generations ever since John and Alexander Manson first established the distillery in 1797. The distillery remains at the heart of our community and stays true to the original charm of the Highlands, our local staff brimming with passion for the fine whisky we make and offering a warm welcome to all.
Celebrate this Festive Season with the ones you love, indulge yourself and experience the sheer magic of Christmas at the Home of Glen Garioch Single Malt.
EVENT DETAILS
Saturday 7th December 2019
10am – 4pm