Getting into the Festive spirit with our Rare Fayre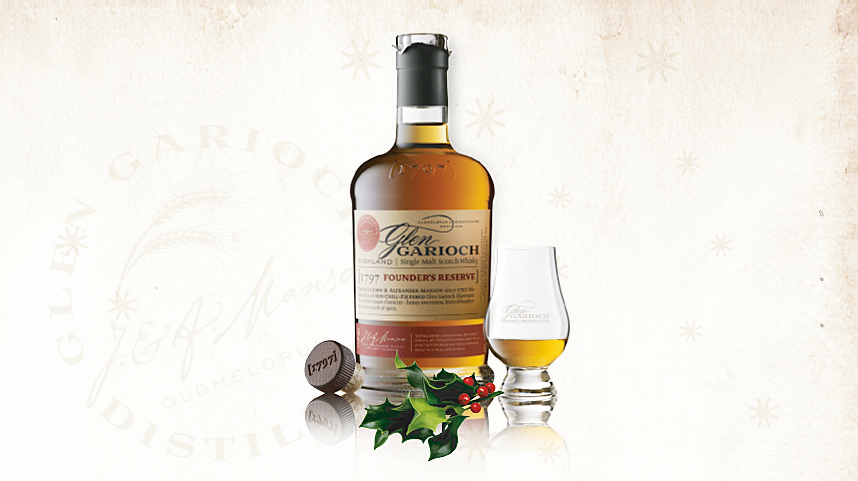 A FESTIVE RARE FAYRE
Christmas is about sharing what you love with who you love and a warm Doric welcome is guaranteed this festive season at A Rare Fayre, Glen Garioch Distillery Oldmeldrum which is being held on Saturday 1st December from 10am to 4pm. Discover the legacy, mastery and dedication of the people of Glen Garioch at this very special time of year. With a range of food and craft stalls from talented local producers, you'll discover some 'rare finds' and gift ideas this Festive Season at the our home in Oldmeldrum. Enjoy a warming hot toddy and chat with our distillery team as you sample the honeyed sweetness and delicious creamy texture of the Glen Garioch range.
GLEN GARIOCH 2007, CASK 57
The Festive Rare Fayre also marks the launch of our brand-new expression, the Glen Garioch 2007. Distilled on 25th January 2007, cask 57 has spent well over a decade patiently maturing in first filled bourbon barrels. Like pinecones smouldering on a fire, this lightly peated Glen Garioch evokes notes of lemon meringue, creamy, light vanilla, cinnamon and sage with a peppery mouthfeel for a long and memorable finish.
Handcrafted and nurtured by the people of Glen Garioch and aged exclusively in a single ex-bourbon barrel, this unique dram comes from single cask. Each bottle is individually numbered and personally signed by Master Blender, Ron Welsh. A rarity to be treasured!
TOURS AND MASTERCLASSES
It's true what they say – you can never fully enjoy a dram of Glen Garioch until you have seen how and where it's made. In fact, there are those who would say we're as traditional as they come. Many of our processes, for example, are the same today as they were over 220 years ago but the journey never stops being fascinating. Come and see time-honoured skills at work, touch and smell the natural ingredients used in our production, hear from our master craftsmen involved and, finally, taste the fruits of their labours.
On this first of December, embrace the yuletide celebrations with a busy day of exclusive whisky tasting experiences, tours and masterclasses.
Sip our Story - £30.00
The legendary Glen Garioch tale spans across 221 years. With the expertise of the team at 10 Dollar Shake, you'll be treated to a range of cocktails in our private bothy (formerly the customs and excise office!) These cocktails will be cleverly crafted to tell our stories through the ingredients and inspiration behind them. What better way to spend your Saturday afternoon!
12pm and 2.30pm | 60 mins
Over 18s only for this experience
Discover Glen Garioch's Rare Finds With our Blender - £55.00
So what is it that makes a good Blender? - a question posed to the Glen Garioch Blender. His reply, "an analytical mind and a good sense of smell, plus a really good memory". Join Olivier Fagnen from the Beam Suntory blending team as he uses his expertise in the whisky industry to guide you through a tasting of some of Glen Garioch's artisanal small batch releases, including a preview of a brand new distillery exclusive release.
10.30am and 1pm | 60 mins
Over 18s only for this experience
Founders Tour - £8.00
The perfect introduction to Glen Garioch's Award Winning Highland Single Malt Scotch Whisky. This unique distillery tour experience celebrates the Manson brothers who first established the distillery and the 220 years of craftsmanship that goes into every bottle that bears the Manson name.
This one-hour long tour includes a dram of The Founder's Reserve.
10.30am, 1pm and 2.30pm | 60 mins
Please visit https://tourbooking.glengarioch.com/list.php to book your place or dial +44 (0)1651 873 450 for further information.
IN THE HEART OF THE COMMUNITY
It's true what they say – quite simply, there is no place like home. Oldmeldrum is the Home of Glen Garioch and has been for generations ever since John and Alexander Manson first established the distillery in 1797. The distillery remains at the heart of our community and stays true to the original charm of the Highlands, our local staff brimming with passion for the fine whisky they make and offering a warm welcome to all.
The distillery will be donating all stall holder fees to the Meldrum Amenities Improvement Group a volunteer organisation which looks to enhance the quaint, historic market town of Oldmeldrum with flower displays, festive illuminations and a community garden. Donations can also be made on the day, with a charity raffle offering a range of great prizes.
Celebrate this Festive Season with the ones you love, indulge yourself and experience the sheer magic of Christmas at the Home of Glen Garioch Single Malt.
EVENT DETAILS
Saturday 1st December 2018
10am – 4pm