Glen Garioch Drambassador: A Mystery Dram
The Glen Garioch #GGDrambassador competition started on Facebook. We posted a unique competition, inviting keen bloggers to put themselves forward to try a mystery dram of our upcoming expressions. The response was overwhelming, but we managed to select a handful of lucky entrants to receive our mystery package...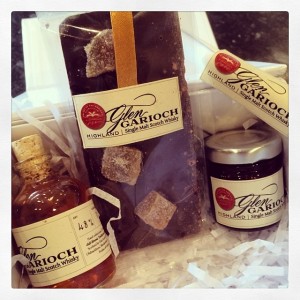 The package contained chocolate, jam, a mystery dram and a scroll with the following clues:
The enclosed liquid is a mystery dram: A sample of our latest expression, a soon-to-be-released, unique single malt whisky.
We'd like you to be among the first to try it and tell us what you think makes it unique. Consider yourself a Glen Garioch Drambassador. If you were to write the tasting notes for this stunning whisky, what would you include? The pairing items in this package may provide you with some clues, and below is some more food for thought:
Clues:
The entire batch of this expression was distilled one summer's day when Scotland, home of Glen Garioch, took part in a global sporting event. In fact, the country where this event took place is closely linked to our tasting notes too.
Our whisky is a perfect marriage of two regions, and you may find our whisky's robust structure and complex flavours remind you of something else.
The casks were previously stored in a cave, 32km from the Atlantic Ocean.
The wood shares its name with a breed of cattle
Try to guess the date on which this new expression was distilled. Tell us everything you think you know about the process behind the distillation, and your own tasting notes based on your senses and the accompanying pairings we've sent you. Post your review on your blog, and let us know via Facebook or Twitter that you've done so by including the hashtag #GGDrambassador.
On 30th April 2014, we'll announce the lucky winner of our Drambassador competition. You could be in with a chance of joining Rachel Barrie, Master Blender, and the team on an exclusive VIP trip to the Glen Garioch Distillery on Thursday 22nd and Friday 23rd May 2014!
Our #GGDrambassadors impressed us with their detective skills, and some of them were very close! None closer than Steve Prentice, our worthy winner. Congratulations Steve!
Watch this space for the official tasting notes, the name of our new expression and the story of Steve's trip to Oldmeldrum.